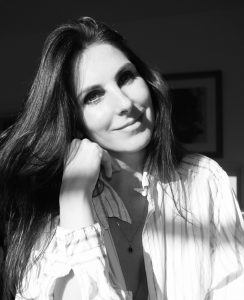 Originally from Manchester, Sally trained firstly as a hair stylist. After working at a leading hair salon, she worked a lot on popular TV shows before moving into fashion and beauty.

 Sally assisted globally recognised Artists Aaron de Mey for make-up and James Brown for hair, travelling around the world and working back-stage on their respected show teams. 

Sally began to be more interested by make-up, as she loved the idea of being able to naturally enhance someone's face and make them look the best possible version of themselves. Inspired by this and with a love for creativity, Sally began her journey as a Make-up Artist.

Passionate about her job, Sally continues to evolve and create timeless, modern looks for clients including Liv Tyler, David Beckham, Victoria Beckham, Tilda Swinton, Kate Moss, Demi Moore, Emma Thompson, Luke Evans, Jared Leto, Kathryn Newton, Elisa Sednaoui, Rita Ora and Pixie Lott. Her work can be seen in magazines such as Vogue Italy, Vogue China, Self Service, Marie Claire, Another Man, Bazaar, Glamour, Hunger, Tatler and GQ.

Sally has worked with brands such as Adidas, L'Oreal, Dior, Barbara Sturm, Gucci, Chrome Hearts, Hackett, Triumph, House 99, Kent & Curwen and Haig Club.